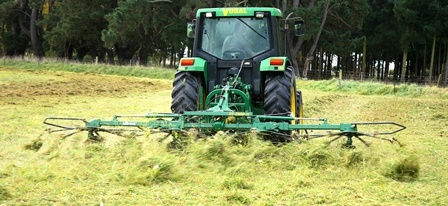 Tedding Tips
Why Tedder?
Tedding hay is an essential part of the hay making process as it speeds up the drying of the hay, this in turn reduces moisture rot once hay is baled and eliminates the possibility of spontaneous combustion of bales due to bacterial decomposition of grass. This is all before mentioning the fact it gets the job done sooner!
When to Tedder?
Hay mowen early in the morning can be tedded in the same afternoon as long as the mowen swath is dry on the top surface. It may require a second tedding the next day to speed up the drying process.

Tedding can be used anytime during field curing, and it typically can reduce your field-curing time by up to 12 hours. Some experts indicate tedding can increase hay drying rates by 20 to 40 percent in certain areas.

Initial tedding should be performed after a brief wilting period following a morning cutting while the hay is still moist (two to four hours). In very damp conditions, tedding may need to be done immediately after cutting. A second pass is usually done the next day, and the hay is raked and baled that afternoon.


Things to consider when tedding alfalfa, lucerne & similar crops
Some crops such as alfalfa & lucerne are often damaged by tedding, this is because it has been left too long after mowing till tedding & the leaf has dried then subsequently shattered when tedded, to overcome this its suggested that tedding is done as soon as possible after mowing while the crop is still wet & damp, at this stage tedding will not affect the crop & the nutritional value of the crop is retained.