Notes to the table
Note 1: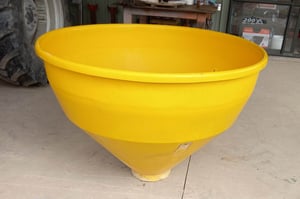 If your hopper looks like the picture on the right: (with two creases and not eccentric)
Then you need the parts designated as "Jumbo". This is what is called a Jumbo Hopper. Found on TPL1000 models with a serial number of between 0 and 2000
Note 2:
This is the old style 105mm wide gearbox, no longer available. Retrofit the current gearbox (p/n 3139) by utilising the rear bolt hole (furthest from the tractor). This means that the gearbox shaft will be a few degrees off vertical, but there is enough clearance in the agitator for this to not be an issue.