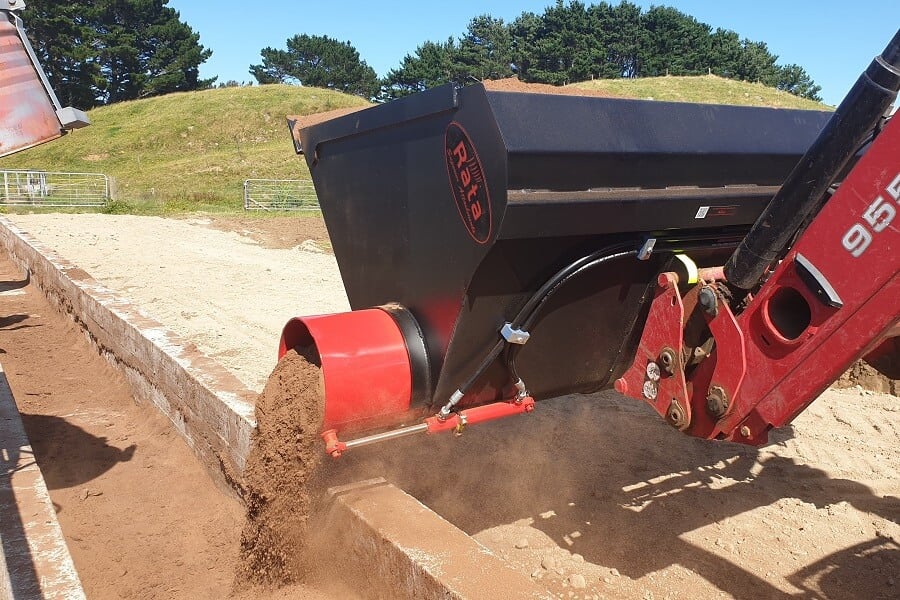 Saving time is something that's always on the ever busy farmers mind. Recently we visited a Taranaki farm to deliver an Auger Bucket for feeding out Palm Kernel into feed troughs. Using the Auger Bucket turned a 45 minute job into a 12 minute task!
A time saving of 73%!
Check out the video below of it on farm making light work of feeding out Palm Kernel into feed troughs.
Back when the Auger Bucket was first developed by Rata Equipment the brief was to provide a 'High capacity bucket capable of feeding supplementary feeds onto troughs, bins & feeders with precision, efficiency & zero wastage' - To sum it up: High volume, Precision Product Placement, Fast, No Material Waste.
With a large 1.5m³ capacity, the Auger Bucket can easily handle large volumes of any supplementary feed whether it be silage, palm kernel or a meal blend.
Combine that with the large 320mm diameter side chute which enables rapid discharge of material aided by twin agitators which prevent bridging & ensure continuous material flow.
The auto extending side chute retracts into the bucket when scooping & also when in storage to prevent accidental collision. Upon auger feed out operation this chute automatically extends to provide precision placement of feed.
High Volume + Fast Discharge + Precision Placement = Time Saving & Minimal Wastage!
In the case of the farmer in the video above, the Auger Bucket has saved him 33 minutes a day or 3.85 hours a week when feeding out!
If you have supplementary feeds to load into troughs, or place out in the paddock, make sure you check out the Rata Auger Bucket Here
Find out what you need to know about New Zealand's most popular supplementary feeds here: Winter Feed Handling Guide