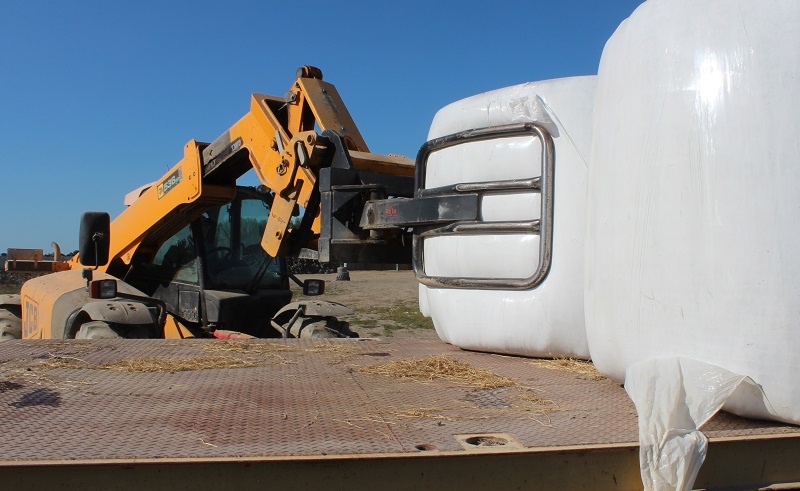 Whether they spike or grip, bale handlers all do just what the name says. But as we know, there's a spanner and there's the spanner you need, so here's a guide to what bale handler does what job best, and how the right one can help your operation become more productive.
One thing you don't want to do with a wrapped bale of silage is break the airtight seal with a spike. That's where you need a bale grab such as a Rata Wrapped Bale Handler. Also known as "soft bale hands", these grip the bale's exterior with firm but gentle pressure, allowing easy handling with no wrap damage, thus preserving the quality of the feed inside. Rata Wrapped Bale Handlers are the most popular wrapped bale grabs on the New Zealand market and can handle and transport two bales at once without stretching the wrap!
Check Rata's Bale Clamp out here.
Handling and moving unwrapped bales of hay or straw is a lot easier as you can simply "spike and carry". Rata has developed a range of bale forks over the years and there is one to suit any size bale, round or square. They can fit almost any tractors front end loader or material handler, and the optional adjustable high back allows you to carry two bales at once.
Check Rata's Bale Fork's out here.
The innovative Rata Hay Hauler is a clever piece of kit that allows you to move up to five bales at a time – four on a rear-mounted Hay Hauler and one on a front-mounted fork. This saves time and fuel, making your operation much more efficient. Hay Haulers are especially handy in hill country, where trucks or even tractors with trailers can have trouble in wet conditions. Another advantage is that a tractor-mounted Hay Hauler loaded up with two or four bales acts as an excellent counterweight, safely balancing the load of a bale being carried on the tractor's front-end loader.
Take a look at Rata's Hay Hauler's here.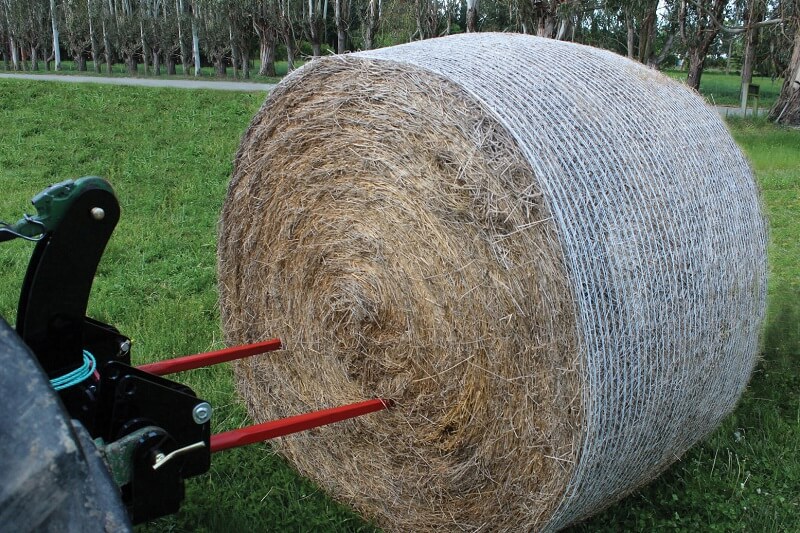 The Hay Hauler takes it to the next level but for some years Rata has manufactured a simple bale fork that mounts on a tractor's drawbar hitch. The unit's pair of drop-down tines mean you can carry an extra bale on the rear of your tractor for every run you do with a bale on the front. This gets the job done faster and saves on fuel at the same time.
Tow your wrapper to the job then drop the tines to carry and extra bale per run!
Learn more about the Drawbar Bale Fork here.
Bale clamps and bale forks do a great job of what they are designed to do, but they aren't interchangeable, which means you sometimes need to have at least one of each in your implements shed. That's where the Tuskan Bale Handler comes into its own, as it can handle both wrapped bales and hay bales.
Rata looked at designing its own mixed-use handler but then came across the Tuskan unit, designed and patented by an Australian farmer. So Rata picked up the local licence and now manufactures the Tuskan Bale Handler in New Zealand.
The Tuskan can be used as a clamp for wrapped bales or as a fork for hay and straw. Four tines laid out in a 2x2 formation or two "soft bale hands" get the job done while providing enhanced stability of the tractor and the bale. The Tuskan allows you to clamp, lift and turn a hay bale on its side so you can cut the bale strings well away from the mixer. You can then re-clamp and drop the bale into the mixer from the comfort and safety of the tractor cab or loader seat. The Tuskan Bale Handler can be made to suit almost any loader or telehandler.
Pipe sleeves for extra support when handling wrapped bales are also available, making it a soft bale grab and a bale fork!
Take a look at this versatile piece of kit here.
Using the right tool for the job is the key to a safe and efficient farming operation. Talk to your Rata dealer about which bale handler – grab, fork or combination – is best for you and will enable you to make the most of your valuable forage and hay harvest.
Looking ahead to the dry conditions? This blog will help you prepare for the dry times ahead.